If you're looking for a new way to take care of your skin, Kratom beauty products may be the right choice. Now found in everything from Kratom bath bombs to Kratom essential oils, it is fast becoming a popular addition to people's daily care regimen.
What Is Kratom?
Kratom is a species of evergreen found throughout much of Southeast Asia, used by locals as a traditional medicinal herb. It has only been the past few decades that have seen Kratom begin to gain traction with American consumers. Popularly available in raw powder form, it's also sold in extracts, capsules, and, now, Kratom beauty products.
It's important to note that while indigenous peoples and some health authorities recognize potential health and wellness benefits for Kratom or products containing Kratom, the FDA, which oversees the use and regulation of substances like Kratom, is not one of them, deeming it fit to be sold for research purposes only. As an adult, however, it is within your rights to conduct your own independent research using the limited studies available as well as anecdotal evidence to decide if Kratom is right for you.
What Can You Expect From Kratom Beauty Products?
Whether you choose premium Kratom bath bombs or decide to make your own Kratom essential oils, you're dealing with a synergistic blend of active compounds.
Better Formula – It doesn't help when you cut corners with your beauty products. That's why successful manufacturers rely on quality ingredients that have been balanced by an experienced formulator. Make sure your Kratom beauty products contain only the best, with premium Kratom and the nutritious oils you want on your body.
Nutritious Blends – Beauty products are meant to beautify your skin, to do this, most are made with an oil base. You want to ensure the oils used are high-quality and offer your skin the nutrition it needs to be soft, supple, and healthy. Palm, olive, and coconut oils are popular, but it is not uncommon to see castor oil, avocado oil, and others join them.
Balance Oils – It may seem counterintuitive to expect adding an oil-based substance to your skin to help fight oily skin and acne, but it does. While the healthy oils help feed your skin, other ingredients work to balance production and stop the formation of clogs in your skin pores.
Anti-Oxidant – Kratom contains two important compounds your skin will thank you for: catechin and Rhamnose. These compounds, which are found in other plants as well, fight oxidation, the process by which oxygen damages cells. For your skin, that can mean drier, older-looking skin.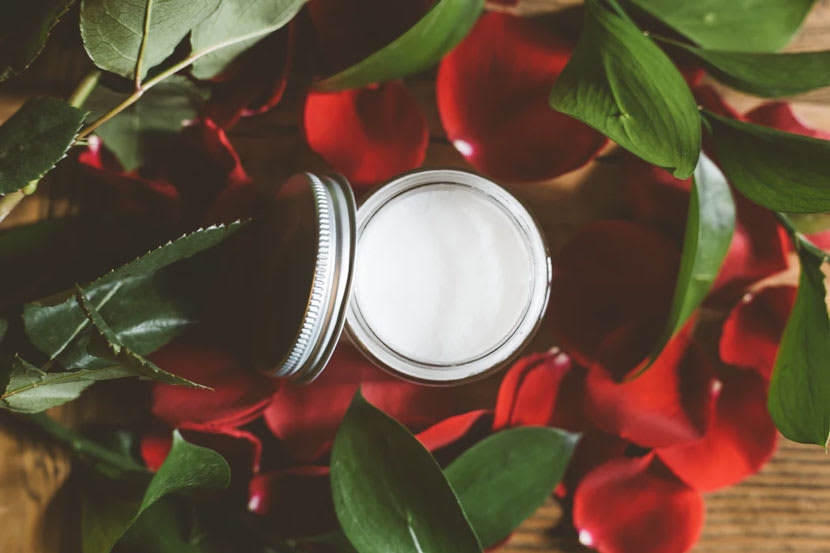 Types Of Beauty Products
There are a few beauty products that Kratom works really well in. They're commonplace, effective, and easy to DIY if you can't find exactly what you want in pre-made products.
Essential Oils – Essential oils are the active components of botanicals, distilled down into a concentrated essence. Some people choose to use them for aromatherapy, while others add them to their path or existing products. Just remember that essential oils are CONCENTRATED, and the use of undiluted essential oils can be dangerous. Making Kratom essential oils are easy. Add 100mg or 0.1g per 10ml to your favorite essential oil and shake well.
Creams – Creams are a thick emulsion of oil and water, often blended with chemicals and botanicals. They also make some of the more sought after Kratom beauty products. The right face cream can give you clear, glowing skin. It can help moisturize dry patches and even out your skin tone in some cases. Just add 100mg of Kratom powder and mix. Alternatively, you could make a Kratom essential oil to an amount of cream for a fragrant skin treat.
Lotions – Like creams, lotions are an emulsion of oil and water, with the distinction being in the texture of the product. Creams are generally firm, whereas oils are much more liquid-like. You can create your own Kratom lotion the same way, add either powder or a few drops of essential oil and mix.
Bath Bombs – Who doesn't need a relaxing soak now and then? Bath bombs are a popular way to let stress drift away. You just pop one in the tub and it turns your bath into a mini-spa soak. Kratom bath bombs add real Kratom to the bath water, letting you soak in its essence. Making your own bath bombs is a little more difficult, but can still be accomplished in several minutes (followed by a few hours of drying time).
You'll need:
8oz. Baking Soda
4oz. Epsom Salt
4oz. Citric Acid
4oz. Corn Starch
1.5oz. Coconut or Olive Oil
1Tbsp. Water
100mg Kratom
Essential oils, botanicals, and fragrances to preference.
Mix the dry ingredients thoroughly in a bowl. In a separate bowl, mix the liquid ingredients. Once each combination is fully blended on its own, add the liquid to the dry mix 1 teaspoon at a time, whisking or stirring constantly. You want a consistency like moistened sand, where the dry ingredients barely clump together. Scrape into silicone molds before it dries, and they're ready to dry for a few hours.
Kratom Beauty Products Start With Premium Kratom
Whether you make your own or find pre-made beauty products, you'll want to ensure you're using premium ingredients, like the highest-quality Kratom powder. If you have any questions, call us at 888-510-2038. Get your premium Kratom products from Kratom Spot today.