Description
Ultra Borneo Kratom
This Ultra Borneo strain features a fine grind of some of the world's best Borneo Kratom leaves. Harvested, dried, and crushed at peak maturity, this strain is 100% free of any chemicals or additives.
Fair-Trade-Sourced Borneo Kratom
This premium Kratom strain is sourced from Borneo, a large island in Southeastern Asia's Malay Archipelago, using fair-trade policies. Our Ultra Borneo Kratom is always
Imported under fair-trade policies
Formulated with 100% natural ingredients
Lab-tested for purity
Guaranteed money-back if you're not satisfied
Where Is Our Ultra Borneo Harvested From?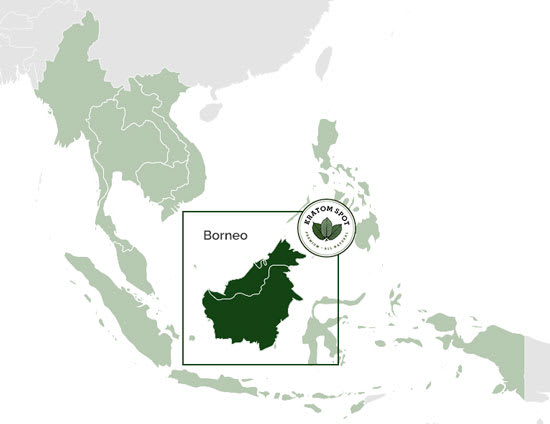 Get Same-Day Shipping
At Kratom Spot, we offer same day shipping for orders placed by 3:00 PM PST and free shipping for any order over $50. It's part of our commitment to customer satisfaction or your money back.
If you have any questions about our Kratom products, simply shoot our customer support team a message, and we'll get back to you as soon as we can. Don't miss out on this exciting strain of Ultra Borneo Kratom powder—place your order online now!
---
Note: All products on our website are for educational and research purposes only. These statements have not been evaluated by the FDA (Food and Drug Administration) and this product is not intended to treat, cure, or prevent any disease. By purchasing you agree to our terms of service and that you are at least 18 years of age. Handle this product at your own risk.