There are a lot of choices online for your Kratom needs, but when you buy lab tested Kratom, you're getting a better quality than choosing a "budget" supplier. It's the best way to make sure you're getting safe, effective products. Not all Kratom is created equal, and when you choose to skimp on quality, you could be wasting your money and risking your health.
Mitragyna Speciosa
This tropical evergreen tree, more commonly known as Kratom, is native to southeast Asia, where its leaves have been recognized for their healing benefits for several centuries. Once dried and ground into a fine powder, the leaves themselves are often available, as is an extract made by further processing of the leaves to isolate the active alkaloids. When you buy lab tested Kratom, it is often sold in these dry forms, but may also be sold as capsules or a liquid extract.
Like most botanicals, Kratom is highly quality dependent. From cultivation through processing, packaging, and shipping, missteps can reduce the potency of the finished product. Worse, inattention could leave it compromised with contaminants that could harm the end user. The first step in making sure that the Kratom you receive is to identify a premium supplier you can dependably buy lab tested Kratom from.
Why You Need Your Kratom Lab Tested
Lab testing Kratom products isn't a marketing ploy, rather it should be a vital step in the manufacturing lifecycle for any reputable Kratom dealer. The tests performed in a lab protect not just the consumer but also the dealer, as they provide all parties verified results on chemicals and compounds that contribute directly to the efficacy and safety of the product. Comprehensive lab testing helps ensure:
…that the product is potent. – The concentration of the active compounds in Kratom determine whether or not you're getting your money's worth from the products you buy. A product too low in mitragynine, for example, may not provide the outcome you're trying to achieve, while one that is too high may cause more of an effect than you intended.
…that the product is consistent. – In the United States of America, Kratom is sold for research and educational purposes only. In order to get the most consistent results, you need a dependable product that delivers the right concentration of active ingredients. When you buy lab tested Kratom, it's measured against the key parameters set by the manufacturers to ensure consistent quality.
…that there are no chemical contaminants. – When dealing with botanicals, there are plenty of opportunities for unwanted chemicals to contaminate a batch. Insecticides, pesticides, chemical fertilizers, and solvents used in processing can all make their way into a product, and lab testing serves as your last line of defense against these threats.
…that there are no biological contaminants. – Improper handling can expose Kratom products to biological contamination, as it did in 2018 when the CDC was made aware of a Salmonella outbreak linked to Kratom. Lab testing could have potentially stopped this outbreak before it happened, allowing for the identification of the source, quarantine of the tainted Kratom, and investigation into how it happened and how to stop it from happening again.
When you choose to buy lab tested Kratom, you're supporting a safer supply chain with more accountability.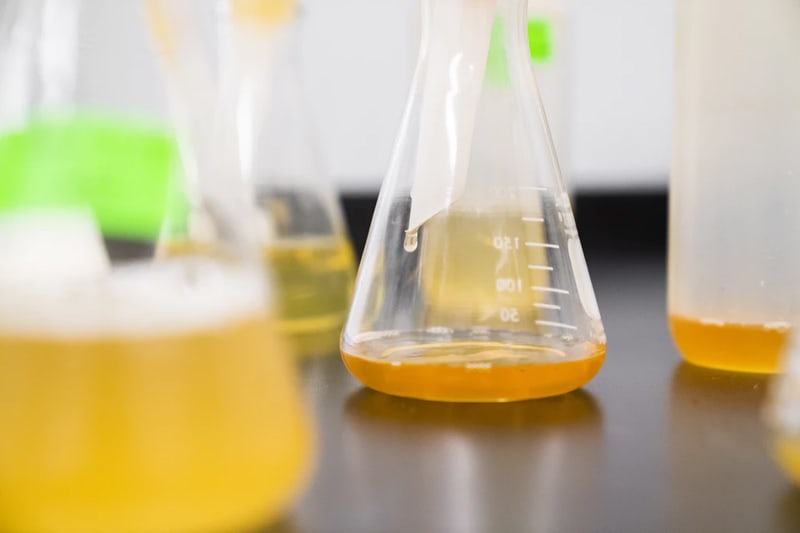 Other Traits Of A Good Kratom Manufacturer
While every quality supplier should be doing lab testing to ensure their products uphold a minimum standard, there are some other traits to look for to help you identify a reputable manufacturer.
A Track Record of Experience And Success – Success is the best predictor of success. Look for a company with years of experience importing, processing, and delivering great Kratom. Look for testimonials from other customers, and ensure their experiences match up with the details of the lab tested Kratom you can buy from that manufacturer.
Responsible World Citizens – Good fair trade practices may only seem like buzz words to you, but to farmers in lower-income countries, and their children who often become farmers after them, they can mean the world. Fairtrade gives these farmers equal value to the product they sell, raising entire communities out of poverty by creating sustainable jobs that will carry on for generations.
Leader In Kratom Advocacy – There is a lot of misinformation about Kratom, and due to regulatory guidelines, dealers are limited in how they can address the truth about Kratom and its potential uses. A company that cares more about helping people than easy profit, however, works to not only inform the public as best it can, but produce products that support the truth: responsible adults should have the freedom to purchase the products of their choice to use as they deem necessary.
Support The Kratom You Want To See
The best way to get better Kratom is to support better Kratom. We're proud to be industry leaders with years of experience working with small farmers on the local level to ensure they're fairly compensated for the raw plants they provide so the next generation of farmers can continue the tradition. This gives us access to the finest Kratom, which we process using industry best practices before submitting it for lab analysis. We want you to have the best Kratom possible, and we want to make sure that's all you get from us. A higher standard is the best way to ensure that people who need quality Kratom will have safe, legal access to it in the United States of America for years to come.
If you're looking for a new Kratom supplier (or your first Kratom supplier), don't trust your health and safety to "budget" sites that cut corners to save you pennies while keeping their profit margin intact. Buy lab tested Kratom from Kratom Spot today.