What is Maeng Da Kratom and is it more powerful than other kinds of kratom? This exotic-sounding strain is a favorite for many kratom enthusiasts. Its reported quality is well-known, but the details behind its origin are not quite clear.
What Is Maeng Da Kratom?
Also known as "Maeng Da Thai Kratom," Maeng Da is more of a slang term than anything else. In Thai, "maengda" means "pimp" or "procurer," however there isn't an official translation for "maeng da." When we're talking about kratom, the accepted colloquial definition of "Maeng Da" is "pimp's grade." This is in reference to the relative potency of the strain.
Like other kinds of kratom, Maeng Da comes in varieties of red, white, and green. So what makes it different than all of the other kratom strains? The basic difference comes from how growers grafted other kratom strains together to make Maeng Da. Grafting is a process plant- scientists use to select certain genetic characteristics when creating a new strain. To graft two plants together, the grower takes the upper portion of a plant and grows it on the root system of a different plant.
To create Maeng Da, horticulturists grafted red vein kratom plants, which grow well in alkaloid-rich soils, with green kratom plants that have especially similar qualities.
Is Maeng Da the Highest Quality Kratom Variety?
The quality of Maeng Da depends on which kind you buy and who grew it, as well as where it was grown. Maeng Da has a reputation for being more premium because it originally came from Thailand, where the local soil imports more alkaloids into the plant. However, Maeng Da isn't necessarily grown in Thailand, and it doesn't have to be grown in Thailand to have a high alkaloid content.
According to Pharmacognosy Review, "Manipulation of physical aspects and nutritional elements in a culture is the most fundamental approach" to higher alkoloid production in plants.
In other words, because Maeng Da was originally created to emphasize quality, it can be more premium than another strain if it's grown in optimized soil. Soil that is properly fertilized and rich in organic nutrients yields the most high quality Maeng Da. It's just like any botanical product — it responds well to good soil and a regular watering schedule. Good soil can also yield other potent strains of kratom besides Maeng Da.
Ultra-enhanced Maeng Da powder demonstrates the effectiveness of first-rate growing and selection standards. "Enhanced" simply means "curated;" when a producer grows Maeng Da under the right conditions with the best organic mulch and fertilizer, and a curator comes along to pick the best leaves from the best plants, the result is an enhanced blend of Maeng Da.
Maeng Da Kratom: How Much Should I Buy?
To determine how much you should buy, it will help to know just what each package contains. If you are new to the strain you can buy a smaller package and if you are familiar with it you have the option of going with a higher quantity. 
Maeng Da Capsules
Maeng Da capsules contain about 0.7 grams of kratom per capsule. These capsules are designed for ease-of-use, store and transport. To start small and try this type of kratom, go with a package containing 25 capsules; if you're already certain Maeng Da is the strain you're looking for, you can order up to 100 capsules per bag.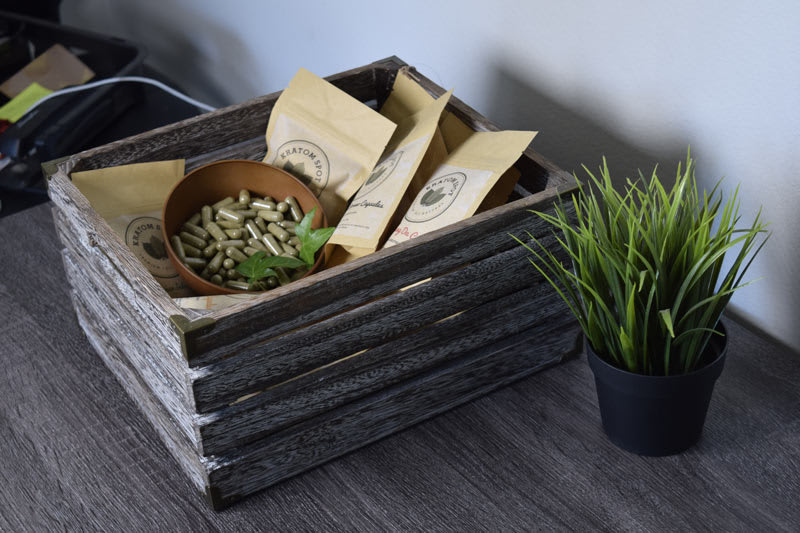 Maeng Da Powder
Powder is the bulk option for buying kratom. To start small, you might try buying one ounce. If Maeng Da sounds like it's right for you, you could buy a pound of powder — again, it all depends on your own personal preference and needs. Some people enjoy Maeng Da in powder form, instead of in capsules, because you can make tea with the powder.
Maeng Da Kratom
Maeng Da is not markedly different than the other strains of kratom in general. That is, some strains of kratom possess different qualities than others. Red Maeng Da typically sits on the other side of the spectrum of the green and white varieties. Maeng Da is the most popular strain, but most people do not know it also comes in red and white variations as well, depending on the point of harvest.
Mitragynine and 7-Hydroxymitragynine are the alkaloid compounds in Maeng Da. There's a higher percentage of mitragynine than 7-Hydroxymitragynine in kratom, and the latter is a more powerful agonist than the former (an agonist is a substance that initiates a response when it binds with a receptor).
Kratom Research
The research is unclear as to why certain strains of kratom act certain ways. According to Science Direct, "The mitragynine concentration in kratom leaves from Malaysia (12%) has been found to be less than the leaves from Thailand (66%)." These statistics seem to back up the belief that Maeng Da Thai kratom is more premium than some other strains.
Maeng Da Quality Matters
When Maeng Da is high in quality, it's because it was farmed using perfect methodology. In other words, if Maeng Da is a high quality strain that needs to be cared for throughout its natural growth. Other strains that aren't as high quality may require less attention during the farming process.
Whatever the case, the primary thing to consider is whether you're getting pure, all-natural Maeng Da that was grown in the best soil and harvested at peak maturity. If that's the type of Maeng Da you're getting, you can be sure it is of the highest quality.